Science is Collaborative and Communication is Key: Lessons from my Postdoc in the King Lab
Kelly Knee
King lab postdoc 2007-2011
Director of Translational Medicine, Rare Disease Research Unit, Pfizer Inc.
32 Bartlett Crescent, Brookline MA, 02446
Kelly.Knee@pfizer.com
There are a number of things that I remember and appreciate about Jon; his admiration of Charles Darwin, his willingness to let his postdocs take their ideas and run with them, his ability to listen to good ideas wherever they might come from, and his enjoyment of desserts. However, there are a few things that I learned in Jon's lab that really stayed with me, and that I find myself using in my career on a near-daily basis.
MIT can be a very competitive place, and there are PI's that foster an atmosphere of competition and exclusion both inside and outside their group. Jon is not one of those PI's. Jon always placed a high value on working with other scientists, as evidenced by his ability to maintain collaborative relationships for decades. Jon always stressed the importance of being a team player, and his enthusiasm for working with other scientists led to the lab's participation in the Center for Protein Folding Machinery, a large collaboration with multiple labs across the country. Fortunately for me, the Center had just started really working when I joined the lab, and I was fortunate to be able to make a big contribution to the group's mission, and in the process meet scientists from a large variety of labs and disciplines, many of whom remain friends and colleagues today. The Center did some amazing science, and I am proud of the work I did as part of it. More importantly, the skills I gained from working on the Center for Protein Folding Machinery projects, particularly as they relate to being part of large scientific teams, have proved extremely valuable in my career in drug discovery.
A further example of Jon's collaborative sprit followed me to my job in research and development. The Rare Disease Research Unit at Pfizer is committed to developing cutting edge science, and the work Jon's group was doing on protein folding chaperones was of considerable interest. The RDRU was able to collaborate with Jon's lab, and further expand the collaboration to include additional labs at Oxford University, allowing for the development of new techniques and the generation of higher resolution structures that have moved the field forward. Jon's generosity with his time and knowledge, and the time and knowledge of his students and postdocs, allowed that collaboration to succeed, and is an example for other academic collaborations within the RDRU.
The other important lesson I took from my time in Jon's lab comes from his commitment to science communication and education. Jon stressed the importance of effective science communication, no matter who was in the audience. Jon encouraged me to do outreach work with Massachusetts biology teachers, high school and college students, and MIT museum patrons. Working with these groups challenged me to find ways to communicate complicated scientific concepts in terms that were accessible to non-scientists, as well as serve as a role model and example of a working scientist. These skills have served me extremely well in my career and have allowed me to feel comfortable speaking to diverse groups of people. If we have learned anything from the global pandemic, it's that science education and literacy are critically important, and Jon was leading by example well ahead of the pack.
The years I spent in Jon's lab remain some of the best of my scientific career, and I feel lucky to have been a part of the group. Jon fostered an atmosphere of camaraderie and collaboration, and the things I learned in his lab, both scientific and personal, have helped shape my life and career. Many happy returns Jon, and thank you for everything!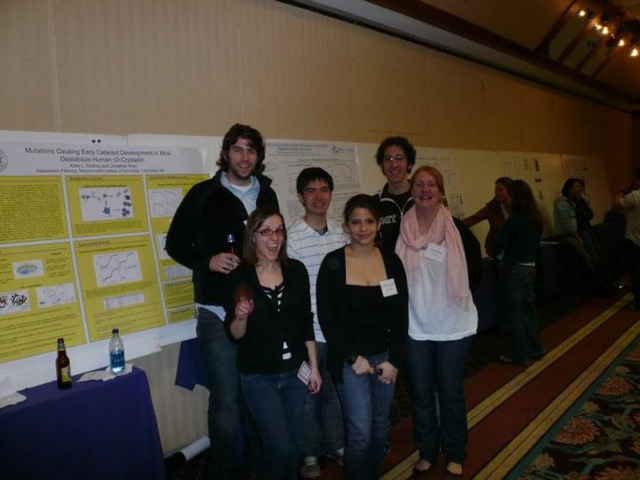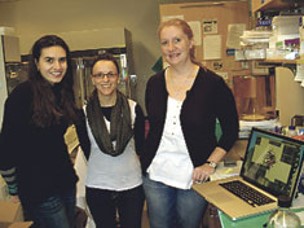 References from the Center for Protein Folding Machinery:
Knee, K.M., Goulet, D.R., Zhang, J., Chen, B., Chiu, W., King, J.A., "The Group II Chaperonin Mm-Cpn Binds and Refolds Human D Crystallin" Protein Sci. 2010; 20(1):30-41
Knee, K.M., Sergeeva, O., King, J.A. "Human TRiC Complex Purified from HeLa Cells Contains all Eight CCT Subunits and is Active in vitro" Cell Stress and Chaperones. 2013; 18(2): 137-144
Pereira J.H., Ralston C.Y., Douglas N.R., Meyer D., Knee K.M., Goulet D.R., King J.A., Frydman J., Adams P.D., " Crystal Structures of a group II chaperonin reveal the open and closed states associated with the folding cycle" Biol Chem. 2010; 285(36): 27958-66.
Pereira, J.H., Ralston, C.Y., Douglas N.R., Kumar, R., Lopez, T., McAndrew, R.P., Knee, K.M., King, J.A., Frydman, J., Adams, P.D. "Mechanism of Nucleotide Sensing in Group II Chaperonins" EMBO J. 2011; 31(3): 731-40.
Sergeeva, O. A., Yang, J., King, J.A., Knee, K. M. "Group II Archaeal Chaperonin Recognition of Partially Folded Human gD-Crystallin Mutants" Protein Science. 2014; 23(6): 693-702