September/October 2020
Vol.XXXIII No. 1
Gratitude for our Community's Commitment to Reinventing MIT in the Era of Covid
Cynthia Barnhart
At the September 16, 2020 Institute faculty meeting, I shared the image below as a way to convey the breadth of Covid-19's impact on our mission and operations – and the intensity and scope of the MIT community's response. This represents the coordinated work of many interlocking teams, involving an estimated 1,000 students, staff, and faculty, since the pandemic required the ramp down (and ramp up) of research operations, the move out of undergraduates and the return of several hundred this fall, the switch to remote learning – and myriad other changes since last spring. What enabled this rapid pace of change? One thing: The commitment of students, staff, faculty, and alumni to reinventing MIT in this Covid-era. The senior officers and I are all incredibly grateful for their wisdom, energy, and ongoing service, as we seek to make the fall semester a success and to shape our approach for spring.
* * * * * * * * * *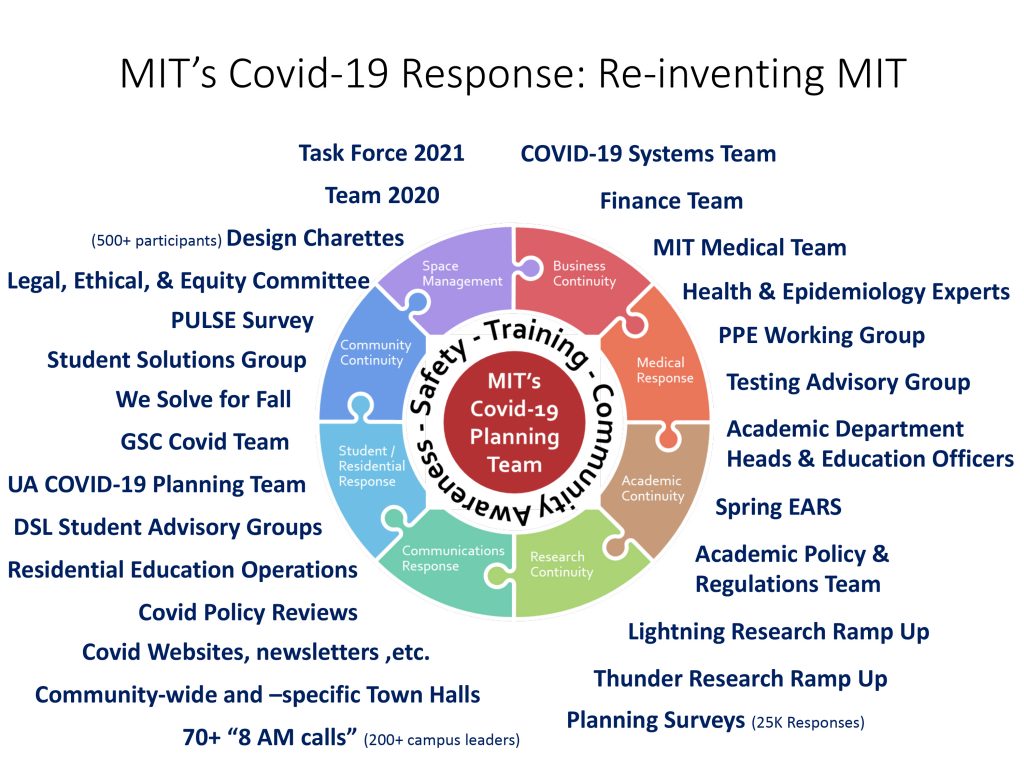 No single graphic can fully reflect the true scale of our community's efforts to respond constructively to Covid. But I hope this at least suggests the enormous effort it took to get us to this point – and points to the continuous need to anticipate and adapt to new conditions.
In the early days of the pandemic, we established groups to ensure continuity and strategic response in eight areas: academics, research, business, community, medical, student/residential life, communications, and space management. The group leads formed the nucleus of a planning team that met on a daily basis. When the continuity and response groups identified additional needs, they formed additional groups, such as a PPE working group, the Emergency Academic Regulations (EARs) group, an Academic Policy and Regulations Team (APART), a Legal, Ethical, and Equity Committee, the Residential Education Operations group, Lightning and Thunder research ramp-up committees, and the many others listed in the outer ring of the circle.
Two key groups also emerged: Team 2020 and Task Force 2021 and Beyond. Team 2020, which concluded its work in June, was focused on the here and now, and they helped us arrive at our fall plan to invite members of the senior class together with a smaller number of undergraduates from other classes facing hardships associated with travel restrictions or circumstances tied to their home state, country or home life. Along the way, Team 2020 sought input from thousands of community members: 500 people participated in design charettes, hundreds Zoomed into each of more than 70 daily 8 am calls to discuss response and planning, and thousands tuned into a number of community Town Halls.
To prepare for the future, Task Force 2021 and Beyond is actively engaging community members. They are currently exploring pathways that will allow MIT to adapt, lead, and thrive in a post-pandemic world – and their work will continue for a number of months to come.
After President Reif's July 7 announcement outlining our fall plans, we transitioned from planning to execution over the summer. For this new phase, we put together an implementation team of senior officers and faculty and administrative leaders, who met three times a week, consulted closely with the deans and student leaders on numerous academic and residential policy decisions, and regularly communicated our progress to the broader community.
With the fall semester well under way, our new Covid Monitoring Team is reviewing individual positive Covid cases as well as trends or patterns on campus; our Covid Decision Team is responsible for decisions related to, for example, ramping down operations in a certain area if we face an outbreak; and our Emergency Operations Management Team is supporting these and other monitoring and decision-making efforts.
As I write this at the end of September, we have a very low number of positive cases, overall compliance with our policies and protocols is strong, and our testing program is working remarkably well. I hope our whole community can pause to reflect on this shared achievement and take real pride in it.
Needless to say, we need to stay vigilant! To keep our community and the broader Cambridge community safe and healthy, we still need the continued cooperation of everyone on campus.
But at the moment, we are in good shape, for three reasons: Our community members are taking responsibility for their individual wellbeing and the wellbeing of others. We have a robust testing program. And our measured approach – inviting a smaller cohort of undergraduates to return to campus – has helped position us for success.
* * * * * * * * * *
As we look ahead to the spring, when we hope many more undergraduates can join us on campus, there are bound to be challenges. We are confident, however, that our fellow community members – with their knack for collaboration and partnership; their generous dedication of time, energy, and inventiveness; and their limitless reserves of MIT Mind, Hand, and Heart – will see us through to the other side of this crisis.
At the center of this effort will once again be our faculty and academic leaders: all of you. This summer, I watched in awe as you devoted yourselves to transitioning your fall classes while striving to infuse them with the MIT mens et manus experience for every student, whether near or far. And I watched – sometimes even live on Zoom! – as you juggled your academic duties with the demands of home. As your colleague – and on behalf of Rafael and the entire senior team – I simply want to say thank you. It took all of us doing our utmost, together, to bring MIT back, and it was an immense honor to be on your team.
Back to top