January/February 2021
Vol. XXXIII No. 3
Moving Forward: MIT Medical's Response to the Covid-19 Pandemic
Cecilia Stuopis
For MIT Medical, the Covid-19 crisis began January 21, 2020. That was the first day we began following the novel virus, now known as SARS-CoV-2, that has changed every aspect of how we live and work. With this global pandemic, MIT Medical's role in keeping our community healthy has never been more important.
At the beginning of the pandemic, the Institute made a bold prediction. If we could adhere to social distancing, hand hygiene, extensive testing, painstakingly detailed contact tracing, daily health attestations, vigilant masking, and ultimately widespread vaccinations, together we could minimize the impact of Covid-19 to the MIT community. While the pandemic is still far from over, I am proud to say that we have thus far been successful. It has been an "All Hands On Deck" approach, with every corner of MIT coming together as one. But it is working.
Who will be allowed to access campus?
It was clear from the start that regular testing would be a big part of answering that question. MIT Medical conducted our first Covid-19 test on March 17. We conducted 91 tests that month. By April, we had built dedicated tents and were conducting surveillance testing of individuals who were living and working at MIT. By late June we had moved to a custom-built trailer designed and built by MIT to safely test the MIT community with minimal PPE. 1 That month, MIT began repopulating the campus after the spring lockdown and all employees were required to test for Covid-19 before returning to work. By August, testing had become mandatory for anyone wishing to access campus. By the end of 2020, MIT had conducted 257,670 unique Covid-19 tests.
Almost a year later, access to campus remains strictly limited. Individuals are allowed entrance to only the buildings they need to perform their daily duties. With the exception of one-time visitors, anyone wishing to come to MIT must undergo Covid-19 safety training, have a recent negative Covid-19 test on record, and if they are on campus more than three times a week, they must test twice weekly to retain access to buildings. Individuals on campus three days a week or less need to test once a week. But everyone — including one-time visitors — must attest to their health and lack of symptoms before accessing MIT property. Everyone must also adhere to MIT's policies regarding masking, social distancing, room capacity limits, and other public safety measures.
Each department, lab, and center has a designated individual assigned to grant authorized individuals access to campus via the Covid Access system. 2 Once in Covid Access, you can download and use the Covid Pass app (available via the App Store or Google Play). 3Through the app, you can attest to your health, check in for testing, and view your testing results.
If an individual attests to being symptomatic, they immediately lose campus access until MIT Medical can ascertain their condition. Whenever someone tests positive, access is also immediately turned off and MIT Medical's contact tracing team begins a comprehensive case investigation to determine if anyone may have been a close contact to the positive individual, and to make sure anyone exposed is told to quarantine.
Vaccines are coming
The Commonwealth of Massachusetts has approved MIT as an employer-based distributor of the Covid-19 vaccine. 4 This means we have the official go-ahead to vaccinate the entire MIT community — students, employees, affiliates, and their dependents — not only MIT Medical patients. Ultimately, we could immunize some 50,000 individuals, (up to 100,000 injections in total). But the timing of vaccinations for individual members of the community depends on both vaccine supply and the state's prescribed priority timeline.
The Commonwealth of Massachusetts has a strict Covid-19 rollout procedure. 5 MIT can only immunize specific demographics based on the state's prescribed priority timeline, and violating the state's mandate jeopardizes our ability to perform any further Covid-19 immunizations. At the top of this priority list was healthcare workers. On December 28, MIT Medical administered the first Covid-19 vaccine on campus to Fatima Rosario, the Lead Medical Housekeeper at MIT Medical.6 Before the end of the year, MIT had immunized every campus healthcare worker who requested a vaccine. By mid-January, the same was true for the rest of the MIT community who qualified as Phase 1 individuals. This included MIT Police and MIT EMTs.
Phase 2A began on February 1, 2021 and MIT Medical was ready. That date was the first day that we were allowed to immunize patients, but we were limited in that we could only give vaccines to those who were ages 75 and older. We administered approximately 140 shots on that day, and some 300 shots that first week. As I write this, the general public will likely be eligible for vaccinations by April 2021, if Phase 2 has been completed. We are working closely with the Institute's Vaccine Planning Team to establish MIT's priorities for vaccine distribution in Phase 3, which at this time, will likely be much less controlled by Commonwealth guidelines. This means MIT could be providing thousands of Covid-19 vaccinations a week throughout the spring and summer months. This will not only keep our community safe, it will take pressure off vaccination sites across the Commonwealth.
Measuring success
The MIT community is doing everything we can to keep each other safe. But is it working? I can confidently say the answer is yes. In 2020, we had 402 individuals test positive through our Covid-19 screening process. Again, each one of those cases underwent an extensive contact tracing investigation, and was reviewed in a de-identified manner by a cross-functional group of MIT leaders to help identify trends and inform Institute policies. In total, only seven positive cases are thought to be due to direct transmission on campus, and in nearly all of those instances, there were individuals working in circumstances where the nature of their role could not support adequate distancing. That's just 1.74 percent. Our efforts have kept MIT virtually Covid-free.
This all said, we must stay vigilant. We have to keep testing, because, while we know the vaccine is very effective at preventing severe illness, we don't know if vaccinated people can still become infected and/or transmit the virus to others.
Looking ahead to the end of the pandemic
This pandemic has been exhausting, both mentally and physically. Many of us have lost loved ones to Covid-19, or we know someone who has. Some of us have suffered from Covid-19 personally and others still have lingering symptoms. Celebrations of events such as graduations, weddings, birthdays, and retirements have been postponed or celebrated in very different ways.
However, this period has also shown us the true strength of the MIT community. The vaccine rollout has brought us much needed hope, and finally, it feels like this difficult time will indeed pass. I am proud of what we have accomplished together to keep each other safe and I am confident we will continue to do so. And I look forward to the day when we can congregate, laugh, learn, and celebrate together as we did before.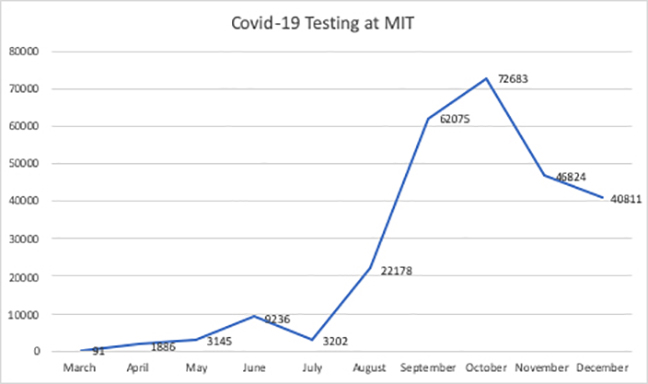 Footnotes
Back to top